News
07 June 2009
Tribute to
Sant

Rama

Nand

Maharaj

Ji
Followers pay last respects to Rama
Nand
http://www.youtube.com/watch?v=muwB1s0hAcU
Body of Slain
Dera

leader lands in New Delhi

http://www.youtube.com/watch?v=xmmy2Yb3l5Q
Sant

Ramanand's

body arrives in

Jalandhar

http://www.youtube.com/watch?v=9_VO0oOuuok

http://www.youtube.com/watch?v=ycrASQLMGok

http://www.youtube.com/watch?v=OeRA7o6hK78

02 June 2009

Murdered guru is laid out in Vienna

By Thomas Hochwarter

<![if !vml]>
<![endif]>Ceremony for guru Sant Rama Anand at the Zentralfriedhof.
<![if !vml]>
<![endif]>Motiv of attackers still unclear to police.

Vienna. The Sikh guru who was killed in a shooting at a temple in
Vienna will be laid out today. Guru Sant Rama Anand died aged 57
a few hours after the attack from gun shots to his chest and back.
His body will be laid out at the Zentralfriedhof cemetery
 from 4pm. City officials said they
 had responded to the wish of the Sikh Ravi Dass sect in doing so.
Safety precautions
Austrian and Indian authorities are currently negotiating safety
 measures for the mourning procedure, according to Vienna police
 spokesman Michael Takacs. Takacs said the autopsy was finished but
 details regarding the transport of the body to the Indian province
 of Punjab were yet to be clarified. Indian media report that the
 guru could already be buried this Thursday.
Parkash Singh Badal, head of the provincial government,
said there will be an official funeral ceremony for Sant Rama Anand.
Medics at the Hanusch hospital meanwhile said the condition
 of injured Sant Niranjan Dass is improving. The 68-year-old guru could be
 released and capable of travelling to India at the end of this week.
Around 15 people had been injured, most of them believers who
 attended the Mass in the temple in Vienna's Rudolfsheim-Fünfhaus district,
 when six people attacked the two gurus and people in the crowd.
 It is however still not been clarified what the motives of the attackers were.
 Austrian police expressed their doubts about the validity of an e-mail which
 was sent to a London radio station last week in which a group
called Khalistan Zindabad Force (KZF) took responsibility for the attacks.
 Instead, police assume that the attacks were sparked by rivalry between different
 sects within the Austrian Sikh movement. "Professional terrorists do not turn up with a rusty,
 old 9mm gun," one investigator was quoted, referring to the seized weapons.
Those included, apart from the gun, a few knives and a pan which was
presumably used by panicking believers to hit the attackers.
300 forensic clues
Some 300 traces were secured at the temple in Pelzgasse,
meaning it could take months before first results of investigations will be announced.
Viennese police have come under fire in connection with the incident for allegedly being
 understaffed on weekends. And the attack in the temple near Westbahnhof was
ammunition enough for Austria's right-wing parties.
FPÖ boss Heinz-Christian Strache claimed the SPÖ Vienna's
 "policy of open doors" would "lead into chaos and multicultural crime."
Printausgabe vom 02.06.2009
http://www.wienerzeitung.at/DesktopDefault.aspx?TabID=4082&Alias=wzo&cob=417212
02 June 2009
Chartered plane to bring home Sant Ramanand's remains
The Punjab Government on Sunday decided to send a chartered plane from
New Delhi to Vienna on June 2 to bring back the body
of Sant Ramanand Maharaj from Austria.Principal secretary
to Chief Minister Darbara Singh Guru would also be leaving for
Vienna to accompany the body.
Sant Baba Niranjan Dass, who was seriously injured
during the attack at a holy place in Vienna on May 24,
 would also be returning to India on June 4 by the same flight.
Sant Niranjan Dass and Guru would then fly alongwith the
body by a chartered helicopter from New Delhi to
Dera Sachkhand Ballan in Jalandhar district.
Harcharan Bains, media advisor to Chief Minister, Punjab,
said that all arrangements for bringing the body to Delhi would be made
 by the Punjab Government.In a statement here,
the Chief Minister, Prakash Singh Badal said that the
Government was aware that some elements were trying to
create social tension by floating wild rumours and whipping up
 communal passions and that the people should join hands to defeat these forces.
http://newshopper.sulekha.com/news/chartered-plane-to-bring-home-sant-ramanand-s-remains.htm
Khalistan Zindabad Force claims responsibility for attack on Sikh place of worship in Vienna
According to information posted on the London-based
Akash Radio Website, the Khalistan Zindabad Force (KZF)
has claimed responsibility for the May 24 attacks on a Gurdwara
(Sikh place of worship) in Vienna, reports The Hindu.
The Website claimed that it had received an e-mail,
written on the KZF's letterhead, was signed by one
Ranjit Singh. The KZF is said to have said the incident
occurred because "these people did not heed to the warnings
that they should not disrespect Guru Granth Sahibji by
sitting parallel to Sri Guru Granth Sahibji letting people bow
before them in the Guru Sahib's presence and committing
various unacceptable anti-maryada (Sikh code of conduct) acts.
As they continued to commit such sins, the KZF was forced to take this action."
Meanwhile, another outlawed militant outfit, the Babbar Khalsa International (BKI),
which also figures on the U.S. list of terrorist organisations, has condemned the
killing of Sant Rama Nand in Vienna. Akash Radio claimed that the
BKI chief Wadhawa Singh Babbar said in an e-mail that the entire
Sikh Panth regretted the attack on Sant Niranjan Das and Sant Rama Nand.
The e-mail said: "Everyone knows that this attack was not done by the Sikh Panth.
Indian agencies are behind this attack and they are trying to split the
Ravidasiya community from the Sikh Panth. The Khalsa Panth will
continue to cherish this relationship formed since the times of Guru Nanak Devji…
The Khalsa Panth requests the Ravidasiya community to maintain peace.
The Khalsa Panth will always stand by the Ravidasiya community
and will not let the Indian agencies succeed in their mal-intensions."
http://www.satp.org/satporgtp/detailed_news.asp?date1=5/27/2009#14
26th May 2009
"Mr Badal has offered to hold a ceremonial
state funeral for Mr Ramanand,
who died in a Vienna hospital on Monday morning.
The chief minister also confirmed that the
Indian government would arrange to fly his body back to Punjab."
http://news.bbc.co.uk/1/hi/world/south_asia/8068459.stm
25th May 2009
With deepest regret
we are informing you of the demise of
Guru Sant Rama Anand ji
of Dera Sach Khand Ballan in Vienna

Guru Sant Nirajnan Das ji, who is in serious but stable condition.
<![if !vml]>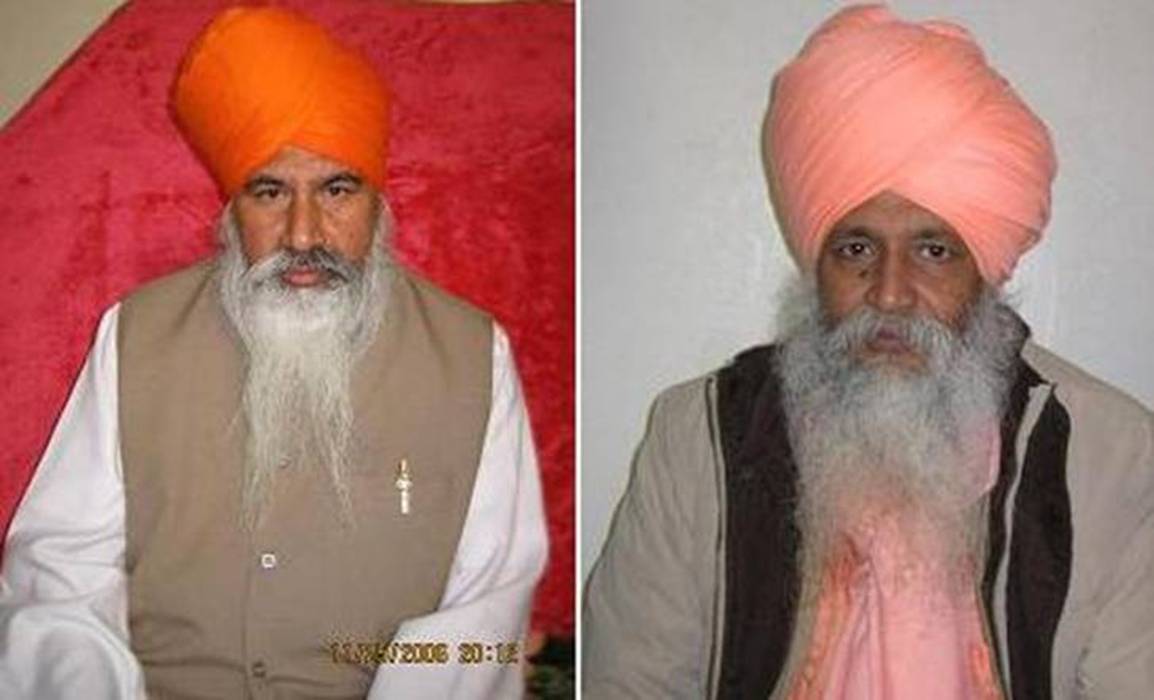 <![endif]>
SANT NARANJAN DASS JI SANT RAMA NAND JI
DERA SACH KHAND BALLAN (JALANDHAR)
<![if !vml]>
<![endif]>